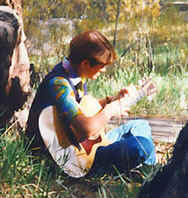 Name:
Jaquie Gipson

Age: 46

Town:
Trinidad, Colorado

At what age did you start playing guitar, and what made you decide to start?
14

First guitar:
Blue Fender Mustang with racing stripe

Early Influences:
The Ventures, Stanley Jorden, Leo Kottke, Peter Lang, John Fahey, Chet Atkins

First gig:
I played in a neighborhood garage band when I was 16. We played for a Eagle's Lodge dance. I had only been playing for a couple of years. Boy did we sound bad, but the people were kind (or desperate) enough to dance to our playing.

Acoustic Guitars you own:
I still have my Fender Mustang, an Alverez Yari classical, a Taylor 512c Custom, Taylor LKSM 12 string, McCollum Meghann Koa/Italian Spruce cutaway, Breedlove SC25 Koa/Adirondack, and an assortment of miscellaneous junkie sorts of things.

Favorite Guitar:
My McCollum Meghann. I call it Mac -- is without a doubt my favorite.

Your Style, and how you developed it:
I guess that I would call it 'fingerstyle tap'. As you scratch your head wondering what that is, I play a lot of fingerstyle and then stir the pot by throwing in some tap style. The two styles add such different tonal qualities. Adding to the level of compositional confusion, my style developed out of listening to a lot of guitar players and when fortunate enough to actually get to see them live, watching their technique and taking notes. I would have to say that my playing style has developed out of a lot of trial and error. It is all of the happy little mistakes that have blossomed into songs.

Practice Regimen:
None. I usually don't practice as such. I will normally sit down and play 3 or 4 times a day for anywhere from 30 minutes to 2 hours at a sitting. But none of it is regimented 'practice'.

Favorite Artist(s):Leo Kottke, Michael Hedges, Tommy Emmanual, Chet Atkins, Stephen Bennett, Don Conoscenti, Stanley Jorden, Billy McLaughlin, Phil Keggy, Eric Clapton, and the list goes on and on.

Is there anything else you want people to know about you, your playing style or your views on today's music in general?
Hmmmm...I would say that my family has been the greatest influence on my music I've been married for 25 years to the same man (Keith) and have a son (Jeff 18) and daughter (Kali 16). All of them have always given me the time and space to play guitar. Family, friends, clean air, and the beauty around me give life to the music that comes out of my guitar.

No matter what style of guitar you play, make it fun. If it is not fun, you'll never know the depths of the soul that the music can reach.
---
Check out Jaquie's website